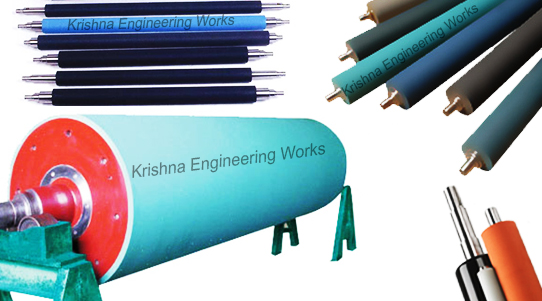 Rubber Roller Manufacturer, Exporter and Supplier, we have been successfully manufacturing all types of Rubber Rollers from India. Rubber Roller with different types for various Industries. Brush Rollers, Super Hard Rubber Rollers, Inflatable Rubber Tube, Nip Roll, Pinch Rollers, Printing Rollers, Impression Rollers, Silicon Rollers, EPDM Rubber Roller.
Standard Features
Rubber Roller
Heavy duty side M.S. steel walls to ensure vibration free running at high speed.
Foundation free base frame.
High velocity air blower for fast dying.
Good quality electronic input drives, motors, Tension Control System etc.
All free rollers are dynamically balanced.
Pneumatic functions for impression rolls.
Auto tension control.
Auto web aligner.
Careful quality control in manufacturing process to ensure years of maintenance free running.
Technical Specification
Rubber Rollers / Ebonite Rolls
Remove wrinkles
Achieve full width of the web Eliminate baggy center
Control slack edges
Separate slitted webs on winder
Try to even out lateral tension across the web width
Bow Roll / Expand roller
The performance of rubber expander (Bow Rollers) depends upon Lead in – lead out distance, Wrap angle, Position of bow (adjustable). 3: 1 lead in – lead out ratio is considered to be best. However, lead out distance preferably should not to be more than 3 times of expander roller diameter. The best results are achieved when bow roll is perpendicular to the web direction.
Sizes: Diameter up to 300 mm
Length: up to 500 mm
Video
Quick Inquiry