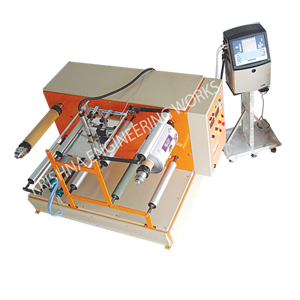 High Quality Winding Rewinding Machines for Offline Batch Coding of Mfg. Date, Expiry Date, Batch No., Sr.No and many more. It allows to apply on paper, film, and foil conversing industries and more with sophisticated process and hi-technology. Featuring with Torque control, tension controller, powder brake, printing System with Hot air ink drying and many more.
Standard Features
Winding Rewinding Machines
S.S. & M.S. VARIABLE / FIX SPEED BELT-Winding Rewinding Machines WITH ADJUSTABLE GUIDE.
Speed: Variable Speed With Vfd, Standard Motor Gear Box With Power Regulator & On/ Off Switch.
Note : Other Specifications Are As Above.
Vibration less Motion Which Gives The Best Coading Thrue Out The Length.
Extra Feeder Plate For Resting The Bunch Of Product And Sloper Output Plate For Product Easy Outward.
Free Attachment Facility For Your Encoder Of The Inkjet Machine On Our Roller Shaft With Suitable Design.
S.S. VARIABLE SPEED BELT-Winding Rewinding Machine WITH ADJUSTABLE GUIDE.
Technical Specification
 Web width

 100 to 1500 MM

 Max. Weight of Unwind

 100 to 1000 KG
(Different models for different weight)

 Max. Parent Reel Dia.

 400 MM

 Max. Rewind Reel Dia.

 400 MM

 Rewind Core Dia.

 76 MM

 Motor

 2 HP AC / DC Motor (3, 5 HP also available on suitable model)

 Maximum Designed Speed

 100 to 150 Mtrs / Min
Video
Quick Inquiry