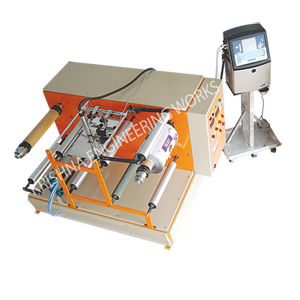 Inkjet Coder Mounting Machine, in any paper, film, and foil converting industries, the Winder/Rewinder (Doctor Machine) is used widely for online printing of Mfg. Dt., Exp. Dt. B. No. etc. using Inkjet printer or other contact coding machines from Roll to Roll at high speeds & then these printed roll are used in various packaging machines. Also, we are a manufacturer of Bow Roll for flexible packaging, textile machinery industries.
FEATURES
Inkjet Coder Mounting Machine
Cantilever design balancing body for easy loading and unloading of parent / rewound reel. Movable unwind stage for Edge guiding System (Hydraulic Web Aligner).
Mechanical 1.5 / 2.5 Kg. Optional Magnetic powder brake with tension controller & Torque control potentiometer.
Provision for incorporating Ink Jet Printing System with Hot air ink drying.
STRUCTURE FITTING
M.S. CHANNEL FRAME BODY with mechanical clutch & break unwind/unwind system, unwind/rewind shaft & cones for printed material holding cores for printed material cores, alu- guide roller & all other standard accessories.
TECHNICAL SPECIFICATION
| | |
| --- | --- |
| Web Width / Weight : | 75-500 mm./100 Kg. (Above 500 mm – Heavy Duty Machine) |
| Max. Max. Parent Reel Dia : | 400 mm. |
| Max. Rewind reel dia: | 400 mm. |
| Rewind Core Dia: | 76mm |
| Motor : | 2 HP DC motor |
| Max. Designed Speed : | 100 to 150 Mtrs. / min |
Quick Inquiry