Our esteemed clients can avail from us the most preferred range of Conveyor For Inkjet Printing Machine. This Belt Conveyor Machine works like feeding and conveying equipment, used for transferring nature rubber. The machine comprises of Selection Reducer, a couple of chain wheels & chains principal wheel and a belt. It works in a very systematic and convenient manner. In order to feed the blocks, one of the chain wheels carries the other to work together when the Select Reduce move. The Principal Wheel is made to do circumgyration with the belt. Conveyor For Inkjet Printing machine is sourced from the state of Gujarat in India.
SPECIFICATIONS
Conveyor For Inkjet Printing
S.S. & M.S. VARIABLE / FIX SPEED BELT-CONVEYOR WITH ADJUSTABLE GUIDE.
Speed: Variable Speed with VFD, Standard Motor Gear Box with Power Regulator & On/ Off Switch.
Note: Other Specifications Are As Above.
EXTRA FEATURES
Vibrationless Motion Which Gives the Best Coding Throughout The Length.
Extra Feeder Plate for Resting the Bunch of Product and Sloper Output Plate for Product Easy Outward.
Free Attachment Facility For Your Encoder Of The Inkjet Machine On Our Roller Shaft With Suitable Design.
Quick Inquiry
Belt Conveyor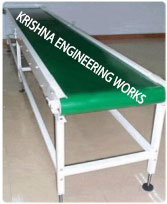 We specialize in the manufacture of Belt Conveyors and are one of best manufacturer and exporter of belt conveyors in India, which you can avail at Krishna Engineering Works at the competitive price with the best quality. We have a huge range of Belt Conveyors, which are in demand due to its robust construction and tensile strength. Belt Conveyors are fabricated with superior quality raw materials and standard bought out items such as Gear Box, Motors, Belts, and accessories, to give high strength and durability to the conveyor's system.
Krishna Engineering Works provide best Belt conveyors for production flow line. Belt conveyors are employed for conveying various bulk and unit loads along horizontal or slightly inclined paths and for transporting articles between various operations and are the main means of mechanical transport. Belt conveyors make material handling easy and cost-effective as it improves the production process and saves from human error.
Belt Conveyor Benefits. Also, we are the manufacturer of Banana Roller for flexible packaging, textile machinery industries.
Krishna Engineering Works supply self-tracking belt technology, smooth product movements, and supplied standard with Geared motor or Drum roller drive. We can customize your equipment to suit your requirements. The belt can be on rollers, a link belt or slide bed. This style is simple but is an overly productive conveyor.
Belt Conveyors has many benefits including:
Self Tracking Belts – Our design provides for the belt to be self-tracking thus eliminating countless maintenance issues for the end user.
Cost Effective. Because in-house manufacturing our machines provide excellent value for money.
Versatility in Design – Tailor made design solution available at no extra cost.
Smooth and Quiet Transport – this conveyor will move materials will ease. Its simplistic style is quiet and smooth, moving products to the required destination.
Irregular Product Movement – designed for those products that cannot easily be moved by other machine styles. Products like sacks, bags and raw food products can be moved safely, making it convenient transportation.
All levels movement – Consider a safe solution for materials handling. It offers a simple height incline and decline; ensuring products get the safety to their area.
Roller Conveyors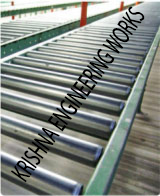 Krishna Engineering Works offer a range of advanced technology Roller Conveyors. Roller conveyors are the proper choice when you need to sideload, push off, accumulate a product or adjust the pressure on carrying rollers. Roller conveyor types are chain driven, belt driven, line shaft is driven, accumulation, or non-powered (gravity). Using roller conveyors instead of slider bed conveyors adds versatility to the type of transfers, diverters, and stops that can be used in a system. Rollers are available in mild steel, galvanized, plastic or stainless steel.
Chain Conveyors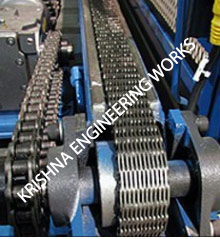 We, Krishna Engineering Works are now a well-reckoned manufacturer and exporter, amidst the chain conveyor manufacturers in India. We offer all types of chain conveyors at the most competitive price without compromising quality.
CPT Chain conveyors system is highly valued amongst clients for its unending features like:
Heavy duty conveyor frame
Heavy duty adjustable legs
Single & Double Chain
Head and Center Drive models
Constant and variable speed packages
100 – 2000 mm widths (higher on request)
300 – 10,000 mm lengths (higher on request)
Available as inclined conveyors
Krishna Engineering Works, expertise in offering a robust and precision engineered range of Chain Conveyors, available in single and multiple chains. Our multipurpose Chain Conveyors are manufactured, using latest technology and types of equipment to serve you quality, high functionality and user-friendly operation. Chain Conveyors are widely used in automobile industries.
Chain Conveyor Benefits
Chain Conveyors allow for multi-directional and flexible movement of material. Unlike other Conveyors, Krishna Engineering Works system works permit horizontal as well as a vertical change of direction. Our parts are manufactured for ultimate durability and functionality, each designed to enable you to move the chain in the direction required.
Chain Conveyors have multiple benefits for businesses, these include:
Most Adaptable – Objects of any size can be placed on the Chain Conveyors, which are otherwise difficult to handle and can be moved up, down, in out and around.
Versatile – This machine is used in all types of industries.
Direct movement – Products can be moved easily and directly on the conveyor and transported effectively.
Multiple uses – These machines can be used in combination with other equipment such as Gravity Roller and Powered Roller Conveyors.
Cost Effective -Standardization and simplicity of component parts, together with complete production tooling mean actual saving.
Apron Conveyors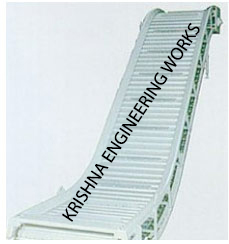 Apron Conveyors are used to carrying materials and pieces horizontally and inclined lines. CPT offers Apron conveyors, which are made of pans with uneven edges to keep a check on the material loss. Krishna Engineering Works offers Apron Conveyors which are flexible for adaptation to lifting loads from hoppers bins. Apron Conveyors can be regulated by adjustment of a sticker plate at the entrance point. Krishna Engineering Works have a heavy handle, which can handle abrasive and hot material. Apron Conveyors are capable of handling material up to 2000 per hour and does not cause noise pollution while carrying the material.
Advantages of Apron conveyors.
Adjustable – The apron conveyor can be adjusted to any length by changing the number of plates. Maintenance and repair are also easier.
Easy Maintenance – When a part of the conveyor breaks, the damaged plates can be removed and replaced instead of the whole apron conveyor, which saves the operator time and cost.
Robust Structure -Apron conveyors made from high-grade steel are useful for handling abrasive materials, such as rocks and granules. Walls and overlap in the apron plates ensure a minimal material loss, especially when transporting grains and detritus.
Widely Used -Mainly used for industrial purposes, apron conveyors are made to withstand tremendous weight, heat, and continuous operation. The conveyor can be treated with special coatings to achieve the desired surface, such as friction or elasticity.
Screw Conveyors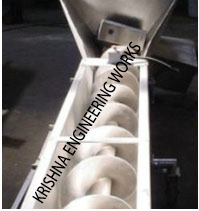 Krishna Engineering Works offers highly effective Screw conveyors with the latest technology making them accurate at the function. Conveyor For Inkjet Printing, Screw conveyors are bulk material transporting devices capable of handling a great variety of materials, which has relatively good flowability. Krishna Engineering Works have become one of the reliable manufacturer and exporter of Screw Conveyors that are known for conveying sand crescent or any other material in powder or cake form. This characteristic is important in screw conveyors operation as the screw helix mounted on a central pipe or shaft, rotate within a fix trough or tube pushes the material in the radial clearance between the helix and trough and causing the material to tumble upon itself as the moving face of the helical flight tends to lift the material. Krishna Engineering Works provide Screw Conveyors with elegant design and delivers the best performance in complex conditions of temperatures and pressures. You all are free to call on us and avail Screw
Slat Conveyors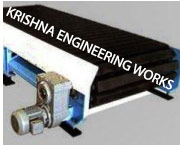 Krishna Engineering Works is recognized as one of the outstanding manufacturer and exporter of Slat Conveyors, as we offer Slat Conveyor having one or more endless chains to prevent overlapping and interlocking spaced slats. They are similar to modular belts in there versatility and use. They are able to transfer product around bends using a single drive. Slat belt conveyors, however, tend to be used in narrow accumulation applications such as bottling or engineering where single-lane product transfer is required. Heavy duty Conveyor For Inkjet Printing for the different industry, Conveyor For Inkjet Printing with the high-quality material of parts
Krishna Engineering Works, produce both a standard range and bespoke range of Slat Belt Conveyors, fully designed manufactured in-house from our facilities in Noida encompassing the widest range of applications and environments. Conveyor For Inkjet Printing ready in stock in a standard size, also Conveyor For Inkjet Printing for the customer requirement.
Key Features
Conveyor For Inkjet Printing
Available in Powder Coated Steel and Stainless Steel
Configurations include horizontal straight, curved and multi-lane
Pharmaceutical and wash down food grade available as standard
Common simple and robust construction
All widths and lengths both as standard and customer specific sizes
All loads and configuration of product ideally suited to accumulation and curved applications
Many drive configurations including a shaft mounted motor, chain driven head drive and underslung drives available as standard
Accessories include many control options, a large range of guide systems, supports, and mobile frames
Common applications include bottling, automotive, food, and pharmaceutical.
Wire Mesh Conveyors
Krishna Engineering Works are one of the prominent Manufacturer and Exporter of the cutting edge technology of Wire Mesh Conveyors. Wire Mesh belt conveyors are mainly used for high-temperature applications such as transferring products through tempering or cooling ovens or when handling the hot product. Belts are usually made from either steel or stainless steel with varying degrees of weave and pitch.
Krishna Engineering Works, produce both a standard range and bespoke range of Mesh Belt Conveyors, fully designed manufactured in-house from our facilities in Noida encompassing the widest range of applications and environments.
Key Features
Available in Powder Coated Steel and Stainless Steel
Common simple and robust construction
All widths and lengths both as standard and customer specific sizes
All loads and configuration of product ideally suited to hot products or where air flow through the conveyor is essential
Many drive configurations including a shaft mounted motor and chain driven head drive available as standard
Accessories include many control options, a large range of guide systems, supports, and mobile frames
Large Temperature range available both cold and hot
Applications include swarf removal, cooling conveyors, ovens, recycling, elevators, and press works